Being pro-active and taking stock of things
I'll be the first one to admit it; I can be quite aimless sometimes. I tend (admittedly a lot) to be this way, with the best intentions of course.
One minute it's this idea, the next its another think Walter Mitty and you're halfway there. It's hard for me to focus sometimes.
I've even sought medical help to see if there was anything wrong with me from a mental perspective.
---
Do I have ADHD or something? Well, a trip to the doctor didn't reveal anything useful, and no prognosis made. The response was I was a bit of a mystery.
I've succeeded and failed in life
I used to have a blog called WPin; I spent a lot of time on it. It gained some traction and was doing quite well at one point.
I killed it in the end due to the fact it had become Frankenstein's monster. Too much playing around with it trying to be the jack of all trades and being the master of none.
Incidentally:
Jack of all trades, master of none,
though oftentimes better than master of one.
The often forgotten full figure of speech gives me hope; it wasn't till I Google'd it made the impact set. Yes, I am a generalist.
That's not necessarily a bad thing though. Better to know a few things than focus purely on the one.
I need to condense what I'm doing and dare I say focus on less but do more. That's why WPin failed; I let my generalism carry over into the blog. I tried a theme/plugin directory and a whole host of other things to gain traction. I am trying to fit in, to be popular if you will.
I lost interest in it, completely and utterly.
Taking the time to take stock of things
I took time out, took it out to re-evaluate from what I want from life being in my forties. Stripping things right back, where do I want to be in 5 years?
Then it hit me, like a silver bullet
I know, I know Arnie. Maybe I was in a reflective mood, and the video of 5 success tips from Arnie just clicked. Whichever way you shake it, it hit me.
For too long now I've been a slave to my mindset, the constant flitting from one thing to another, never really sticking at it. Then, of course, getting upset with myself that my ideas didn't take.
It's about goals.
The one thing I've missed is goals, you've got to have them
That's it, that's the one thing I have quite literally lost. I've never set any. In my whole time in blogging, I've never really set out a list of achievable goals.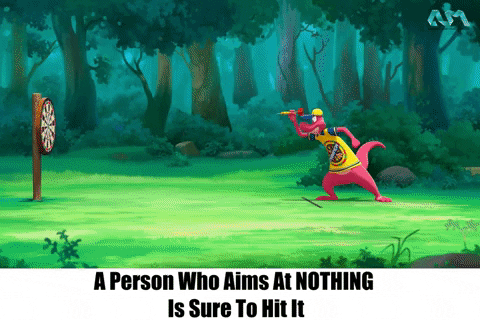 Embarrassing right?
Well, when some of you have finished scoffing and pointing at the screen with your mates and yelling this guy is a tool, I agree with you.
I've been stupid. So, stupid.
Looking back it's where I've been going wrong, so very, very wrong and dares I say it, for too long. So I thought (after watching Arnie BTW who knew Arnie could be inspiring?) I need to set myself some targets.
LyrWP was going to be this and that
Full disclosure and this probably will allude to my butterfly mind, LyrWP was going to be a site for curating WordPress themes and plugins, I bought myself a content curation theme. Got it listed on ProductHunt.
Guess what? Yup, you guessed it I tinkered and got bored. I should have kept it going it was on the cusp of being well received to a degree. I've learned from that mistake and many others.
Setting myself some achievable goals
The trick with goals is never to set yourself ones that are unattainable. If you can't achieve them, you're never really going to get anywhere; it's best to run before you can walk. I'm reassuring myself with that statement aren't I? (Yes you are) curse you the voice in my mind space.
Small little goals, gearing up for bigger ones over time. Bearing although I do have a full-time job, and a family to look after. So it's got to be time allowing.
These are the goals I'm setting myself
Currently, I have 90 Twitter followers. I want to grow this to around 150 by the end of February. To do this, I'm going to engage more with followers and offer advice and help where I can.
I do enjoy Twitter. Yes, it is a distraction to a degree, but an excellent way to reach out and chat with people. And of course find new topics of interest, perhaps to write about, and purely to increase awareness of the blog.
Increase my following on Twitter
Add more content
I've got a few posts on LyrWP, a few about GeneratePress (mainly how to's) which incidentally is the theme I'm using. Love it, definitely worth checking out. I will end up reviewing it for sure.
So more helpful content to those using GeneratePress, along with other material I feel would be of benefit to people like you and me.
Add at least two reviews a month
Might not sound like a lot, and you'd be right.
But I don't have a team of writers available to me — no people queuing up to write guest posts either. I don't want guest posts even if I had the traffic; I prefer my stamp on things.
My reviews tend to be quite in-depth and warts and all, hopefully, they will generate some traffic through honesty.
Increase traffic to LyrWP
The blog (since I hit the reboot button) has scant traffic; I mean zero at the moment. I even forgot to install Google Analytics on my blog, then wrote a post about it to remind me how to do it!
Going to keep this low, so I'm aiming to have around 10-20 hits a day over the next four weeks. I will struggle to hit even that in truth, by combining content, reviews of products and using Twitter it should help me.
Not be disheartened
That's not a goal! To some, it might not be.
Need to put it on paper so to speak. Like I said I can't afford to be upset with myself if I don't hit my goals. It will only put me off from achieving them.
So to recap this is what I'm aiming for
Increase Twitter followers to 150 – or as near as dammit
Add more content – a mixture of reviews and other useful material – a minimum of 2 studies to be added over the next four weeks
Increase traffic to LyrWP – I will post a full transparency report of February at the end of Feb. The only way I can increase traffic is through writing more content and using Twitter
So that's my goals from now until the end of February. So, wish me luck, here goes nothing and hopefully, something will happen 🙂
Don't forget if you'd like to keep up to date with what's going on on LyrWP, check back regularly or follow me on Twitter here!